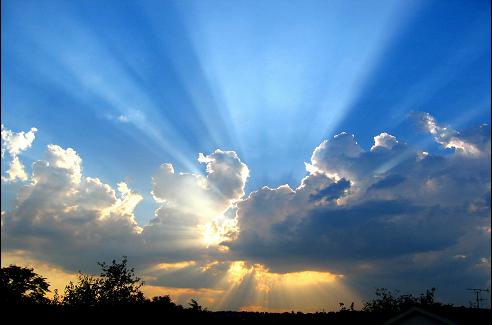 I've been thinking a lot about heaven lately. Mostly because my dear friend Liz is dying. She has late stage aggressive abdominal cancer hat has been slowly killing her for a long time bu it is in the past few weeks that it has gotten much much worse. Her doctors have taken her off her chemotherapy, she's been moved to a hospice facility, her digestive system is so crushed by the cancer that she can no longer get any nutrition from her food. And she is rapidly deteriorating. Her health and strength and vitality and endurance are gone. But what is intact is her joy.
From the beginning of her battle with cancer, Liz has never wavered from the firm belief that either God will heal her so she can testify to His grace or He will take her from this earth so she can testify to His grace. This solid truth and faith in the Sovereign Creator King has sustained her through long years of chemotherapy and discovering that the cancer came back when it seemed in remission. And now, staring into the face of death itself, Liz is still filled with Joy. The joy of knowing that one day, she is going to close her eyes to a world of sin and death and decay and open them to the face of her savior. Heaven is so close for Liz and I am so so so so glad that she is finally going home, finally free of pain. Finally able to see the face of her God who saved her and sustained her in the dark hours and the bright one.
But it is hard to let her go.
Liz is my dear friend, my sister in Christ, a prayer warrior, a saint of God, a faith filled woman, an encourager, a charismatic worshiped who, like David, does not fear the opinions of men when it comes to how she expresses her joy in Jesus. Liz is precious to me, to my Grandma (who is her bestie), to our church where she has served so long. It is hard to let her go.
And so I think of heaven.
"13But we do not want you to be uninformed, brothers, about those who are asleep, that you may not grieve as others do who have no hope. 14For since we believe that Jesus died and rose again, even so, through Jesus, God will bring with him those who have fallen asleep. 15For this we declare to you by a word from the Lord,[d] that we who are alive, who are left until the coming of the Lord, will not precede those who have fallen asleep. 16For the Lord himself will descend from heaven with a cry of command, with the voice of an archangel, and with the sound of the trumpet of God. And the dead in Christ will rise first17Then we who are alive, who are left, will be caught up together with them in the clouds to meet the Lord in the air, and so we will always be with the Lord. 18Therefore encourage one another with these words." (1 Thessalonians 4:13-17)
Paul writes to the Thessalonians to help them understand the nature of death for the Christian. It is NOT death to die. We lose this decaying body and gain one of immortality. We leave this world of sin and go to Jesus. We no longer experience pain or sickness or sorrow or fear or sin or death. All longing is satiated, all praying answered, all tears wiped away, all hoping realized, all believing established, all faith vindicated. And we will be with Jesus. Forever.
Liz is not going to die. Her cancer will die. Her sin wil die. Her body will die. But who she is in Jesus Christ will never die. Because the Lord of all creation entered into what he had made and took upon his innocent self the guilt of every rebellious human and carried it to the grave, because God looked upon the sacrifice of a sinless substitute and accepted His death in exchange for ours, because Jesus conquered death and extended his earned righteousness and covering atonement to those who cling to him, because of Jesus, Liz will never taste death. And neither will I. And neither will anyone who puts their faith in Jesus as the only way to God. And we will always be with the Lord in a place purified of sin and all it's fruits. In a place called heaven.